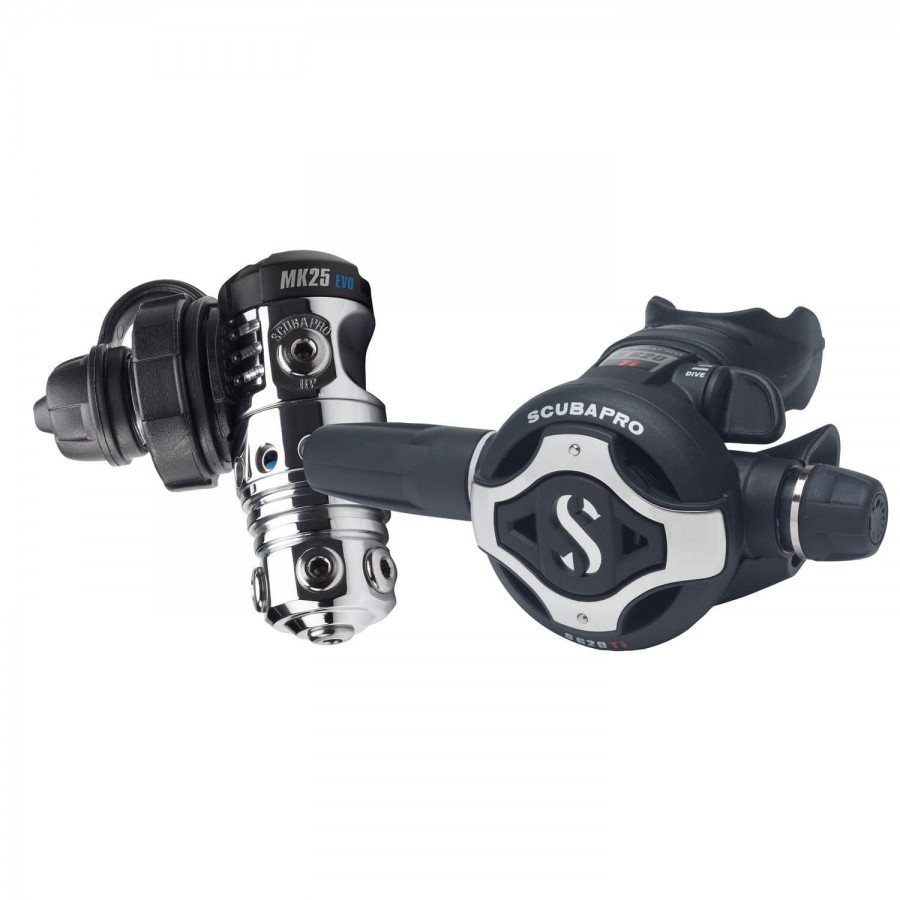  
SCUBAPRO MK25EVO S620TI
The MK25 EVO model offers excellent frost resistance, superb inhalation sensitivity and immediate delivery on demand. The new S620 Ti combines the best features of SCUBAPRO's popular S600 line in an updated version, based on a cutting-edge design.
Smaller and lighter than the S600, but with a diaphragm of the same size, the S620 Ti model offers excellent performance; Compared to the S600, breathing effort has been reduced by 40%, delivering airflow effortlessly in all diving conditions. The titanium valve seat is ultra-lightweight, the large purge button improves water circulation, while the new exhaust increases performance by channeling bubbles out of sight. At any temperature, in all diving conditions, this new delivery system always wins.
First stage
The pneumatically balanced flow-through piston, in a chrome-plated brass body, provides smooth, consistent airflow regardless of depth, tank pressure and breathing rate.
The Extended Thermal Insulating System - XTIS (patented) thermally isolates the internal mechanism from the environment, improving cold water resistance by 30% and delaying ice formation in extremely cold water conditions without compromising breathing performance. Key components of the isolation system are highlighted in blue.
The spring insulator liner, body insulator bushing, anti-freeze cap, larger body and cap thread combine perfectly with the XTIS system to improve cold water performance.
Anti-freeze protection significantly increases breathing reliability when diving in extremely cold water.
Two opposing high pressure outlets allow the first stage to be positioned high or low.
Four high-flow low-pressure outlets and one ultra-high-flow axial outlet on a rotatable turret increase hose routing options.
External intermediate pressure adjustment allows engineers to fine-tune performance quickly and easily.
Available in 3364 psi/232 bar INT or 4350 psi/300 bar DIN configuration.
The DIN version features a dual-compound handwheel featuring an ergonomic shape and a soft grip on a sturdy black nylon frame.
Airflow at 2900 psi/200 bar: (l/min/SCFM): >8500/301.
Intermediate pressure (psi/bar): 130-142/9.0-9.8.
Second stage
The pneumatically balanced valve reduces breathing effort as depths and supply pressures vary.
The rugged, reinforced technopolymer casing and front cover can withstand years of diving in aggressive conditions.
The titanium valve seat is robust, anti-corrosion and lightweight, ensuring maximum long-term reliability.
The large diaphragm of the S600 fits inside a compact casing for maximum breathing sensitivity.
User adjustments can be made through a convenient breathing effort adjustment knob and a VIVA (Venturi-Initiated Vacuum Assist) lever.
The high-flow hose features a large hole that ensures greater airflow with each inhalation.
The compact, ultra-comfortable orthodontic mouthpiece is easy to grip and does not inhibit airflow.
Flow rate at 2900psi/200bar: 1850 l/min
Regular price

€40.00

Price

€29.00
8 other products in the same category:
Regular price

€699.00

Price

€559.00

Regular price

€1,215.00

Price

€949.00

Regular price

€749.00

Price

€449.00

Regular price

€455.00

Price

€379.00

Regular price

€419.00

Price

€369.00

Regular price

€1,199.00

Price

€899.00

Regular price

€899.00

Price

€649.00
Customers who bought this product also bought:
Regular price

€790.00

Price

€629.00