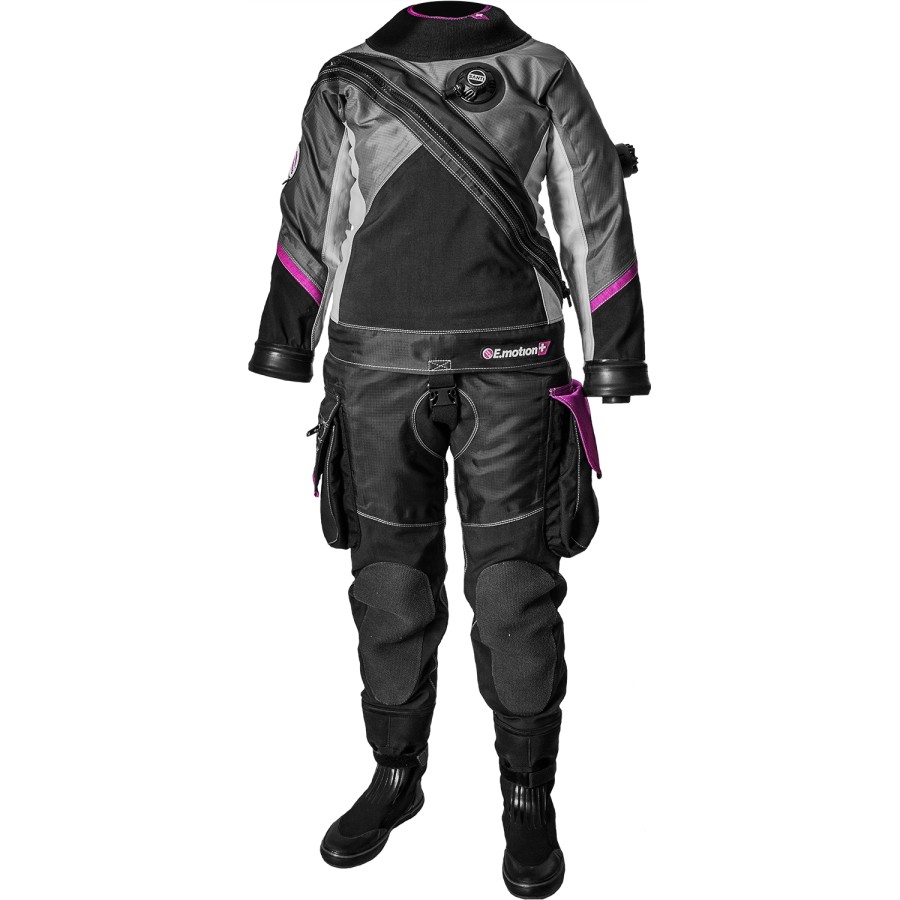  
SANTI EMOTION PLUS LADIES FIRST
The E.Motion PLUS represents the best combination between the qualities of flexibility and lightness of the E.Motion Ripstop and the exclusive robustness and comfort of the E.Lite. We have managed to combine these characteristics together in a single wetsuit, through a very sophisticated cut and design that guarantees the best performance in many different underwater environments, both in recreational and technical diving. The structure of the E.Motion PLUS includes the upper and upper front part of the trousers made with the flexible and lightweight 260 g/m 2 trilaminate Ripstop fabric, while the 535 g/m 2 trilaminate of the E.Lite is used for the rear part of the trousers, for the abdomen and the underlying part, the elbows, the crotch and the lower front part of the trousers, in order to ensure maximum protection in the areas subjected to greatest wear. Innovative and convenient SANTI Smart Seals system - soft rings that allow the replacement of the seals with any other model desired or available at the moment. There is a YKK Aquaseal zipper, made of highly durable but also light and flexible plastic material. It is very resistant to dirt and requires very little maintenance in the end area. For a more convenient and efficient placement of the exhaust valve on the arm, in this model the hinge is installed from the right shoulder to the left hip.
SANTI offers a two-year guarantee on the plastic hinge.
total weight ( size L, standard options ): 3.9 kg
260 g/m 2 Ripstop fabric
535 g/m 2 trilaminate
front hinge moved, in order to ensure the best position for the exhaust valve
new cut of trousers
2 large and sturdy cargo pockets with internal elastics to secure equipment.
Both pockets are equipped with a useful accessory pocket for double-light carabiners
special conformation of the horse, to facilitate leg movements
standard SANTI Flexsole boots
hood with collar made of 7 or 9 mm soft Neoprene or, on request , in any other thickness available from SANTI
Neck seal protected by a 3mm neoprene collar
high profile Apeks exhaust valve and loading valve with "inflator" type coupling
internal braces
75 cm low pressure hose
STAY DRY transport bag, water-repellent
5 year guarantee after registering with the STAY DRY CLUB
---
Choice of 3 colors for:
PIPING: Silver , Lime , Pink
SIDE GORES: Silver , Grey , Black
BODY TRUNK: Black, Grey
---
SIZES :
XS, S, SL, M, ML, MLL, LS, L, LL, XLS, XL, XXL
8 other products in the same category:
Regular price

€1,150.00

Price

€899.00

Regular price

€115.00

Price

€80.00